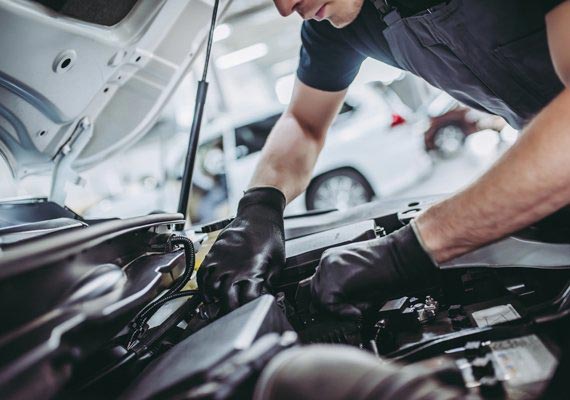 Need Service?
According to RL Polk the average age of vehicles on the road is eleven years and is trending upward. This means that customers must decide more often where to repair their vehicle; at the dealership or at an independent.
SERVICE DEPARTMENT
Here are three important factors to consider when making your choice of where to service your vehicle.
Consider convenience. Is the dealership or repair shop close to you? Also, what hours are they open, do they have shuttle service, loaner cars, and other amenities while you wait?
Are the technicians trained to fix your car? Manufacturers require dealers to be certified with them and independent service organizations like ASE. Before you go to an independent, make sure they have the ASE blue seal of excellence, check the Better Business Bureau, and read online reviews.
Shop for the best price. The perception that the dealer is more expensive is not always true. In fact, many times they will meet or beat any independents price if they haven't already.
Benefits of Car Maintenance
There are many benefits of car maintenance for Brewster drivers. The first and most important benefit is increased reliability. In other words, you are going to want to make sure your Toyota vehicle is performing properly for your daily commute. Aside from reliability, regular car maintenance will help retain the value of your vehicle, improve safety, and can cut down on costly repairs. If you have questions regarding routine maintenance or auto repairs, please feel free to reach out to our service professionals.
How Often Should I Maintain My Vehicle?
Depending on the type of service you need depends on how often you should maintain your vehicle. We recommend bringing in your new Toyota car for routine maintenance at least once every 5,000 miles or about every three months. The most common car maintenance items that should be taken care of include oil and filter change, tire rotation, fluid check, and air filter inspection. We want our Dennis drivers to be well-protected on the roads at all times.
Car Maintenance Near Me
The best place to bring your Toyota car, truck, or SUV in for car maintenance is Orleans Toyota. Our service center is conveniently located at 16 O'Connor Road in Orleans, MA. We are only a short drive away for our neighbors who are traveling from the Eastham and Wellfleet, MA areas. If you still have questions about car maintenance in Orleans, MA, please contact our service department today.